Click their name to visit their pages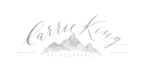 Carrie King
Carrie's talents never seem to amaze me. Her level of photography is beyond stunning and tell such a story. Not to mention she is the sweetest to work with.
Randy and Ashley Studios
This dynamic duo is my favorite couple to work with. Their photography is definitely one of my favorites.